Klairs Supple Preparation Unscented Toner Review & Comparison
The original Klairs Supple Preparation Toner is my absolute favorite toner- I love it so much that I picked up 3 bottles when I was in Korea! A few weeks back, Wishtrend messaged me about trying their new unscented formula and I was literally jumping for joy. Does it work the same as the original? Is it better? Let's find out!
What It Is
The Klairs Supple Preparation Unscented Toner is free of essential oils, balances pH levels, moisturizes, cleanses, and soothes the skin. It is intended for sensitive skins and those who do not like the fragrance of the original formula. This toner comes in a 6.08 fl.oz. clear, sturdy plastic bottle and sells for $21.99.
Ingredient Analysis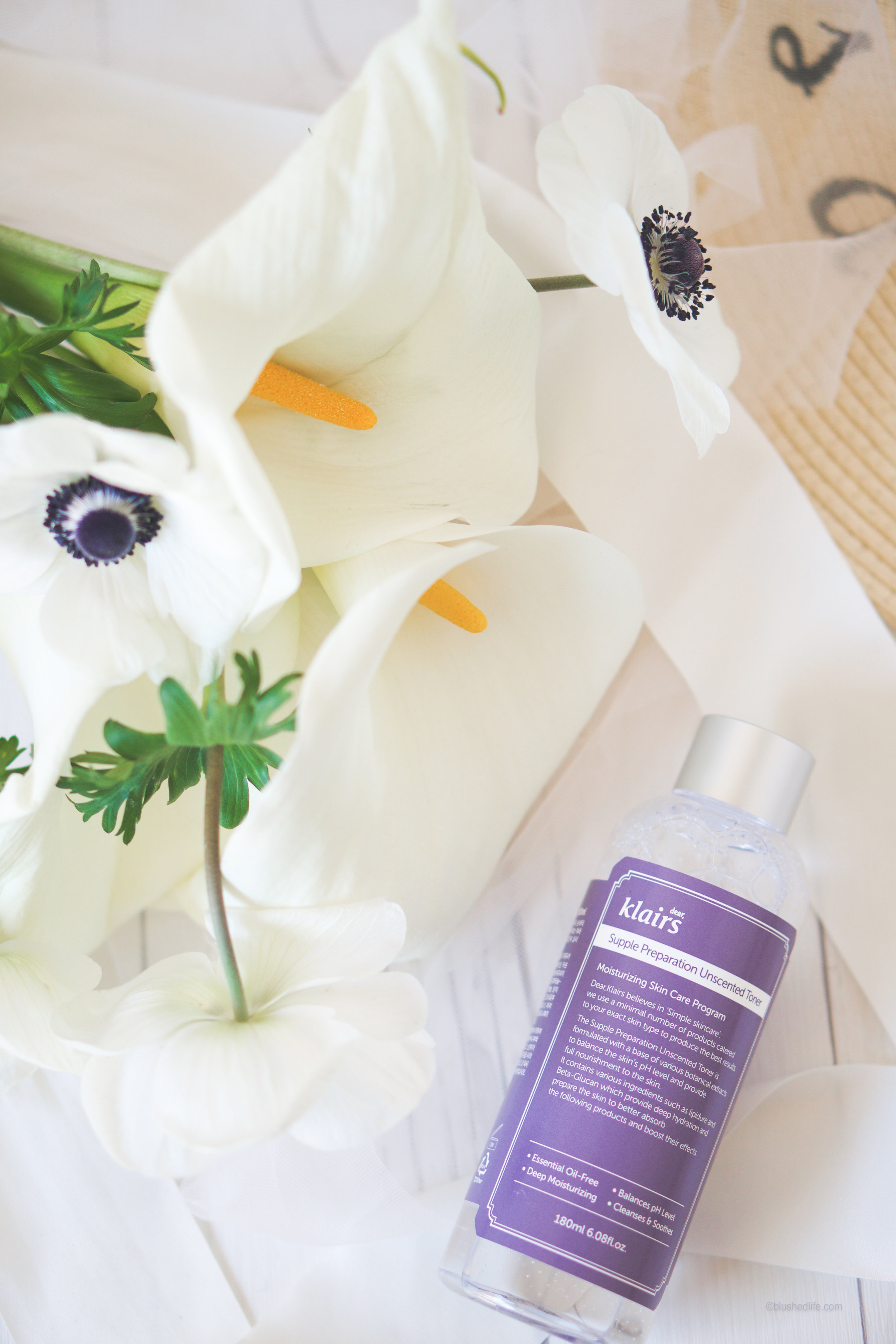 Water, Butylene Glycol, Dimethyl Sulfone, Betaine, Caprylic/Capric Triglyceride, Natto Gum, Sodium Hyaluronate, Disodium EDTA, Centella Asiatica Extract, Glycyrrhiza Glabra (Licorice) Root Extract, Polyquaternium-51, Chlorphenesin, Tocopheryl Acetate, Carbomer, Panthenol, Arginine, Luffa Cylindrica Fruit/Leaf/Stem Extract, Beta-Glucan, Althaea Rosea Flower Extract, Aloe Barbadensis Leaf Extract, Hydroxyethylcellulose, Portulaca, Oleracea Extract, Lysine HCL, Proline, Sodium Ascorbyl Phosphate, Acetyl Methionine, Theanine, Copper Tripeptide-1
I never did a proper ingredient analysis on the original version so here it is!
To no surprise, Centella Asiatica and Glycyrrhiza Glabra Root Extract (Licorice Root) are in this toner to act as anti-inflammatories. We also have Aloe Barbadensis Leaf Extract, Polyquaternium-51 (Lipidure), Proline, and Theanine to help moisturize our skin. Beta-Glucan has soothing properties, improves redness, and sensitive skin. This ingredient list is literally the same as the original just without the essential oils.
Results
As expected, this toner is deeply hydrating without being sticky or too heavy. Like the original, it works great to remove any residue post cleansing and for layering to moisturize dehydrated skin. I love how it makes my skin feel- comfortable, hydrated, and soothed. I like to saturate compressed sheet masks or cotton pads with this toner to use as mini sheet masking session to give my skin a boost in the morning.
The only difference (aside from fragrance) I found between the two versions is the viscosity. I couldn't really tell at first, but this unscented formula is just a tad bit thicker than the original. Kevin has also been using the original formula so I had him try this one out and he agreed that the unscented version felt heavier. I don't mind since it's barely noticeable, but it might bother those who want to feel nothing on their skin.
Conclusion
I love that Klairs came out with a fragrance free version of their awesome toner! This version works just as well as the original so it's a great option if you don't like the smell of essential oils. After using both versions I still like the original formula more. They both work great, but I enjoy the fragrance and the slightly thinner texture of the original.
★★★★½ Out of 5
Pros: Unscented, deeply hydrating, soothing
Cons: Slightly thicker formula
Available via: