Get Rid of Cracked Feet + Heels | The Face Shop Smile Foot Peeling Mask Review
Dry, cracked heels and feet are a nuisance. They ruin your bed sheets, can be embarrassing, and are just so uncomfortable! Kevin and I have dry feet, but his are like pumice stones. When you can feel a hardened layer of skin under your foot, you know it's time to exfoliate. If you like to use a Ped Egg or something similar, please stop. Instead, use a foot peeling mask! I picked up these Smile Foot Peeling Masks at my local Face Shop and they are life changing!
What It Is
The Smile Foot Peeling Mask uses a concentrated formula of AHA to slough off dead skin. Each kit comes with a set of plastic booties and peeling liquid (AHA). After pulling on the plastic booties, simply pour the peeling solution into each bootie, tighten the straps around your ankles and let your feet soak for 60-90 minutes. After soaking, rinse clean and your feet will begin to peel 4-6 days later. My local Face Shop was selling these kits for roughly $11.
Ingredient Analysis
WATER/EAU, GLYCERIN, BUTYLENE GLYCOL, CETEARYL ALCOHOL, CETYL ETHYLHEXANOATE, MINERAL OIL/HUILE MINÉRALE, ALCOHOL, POLYSORBATE 60, GLYCERYL STEARATE, PEG-100 STEARATE,SORBITAN STEARATE, BUTYROSPERMUM PARKII (SHEA) BUTTER, DIMETHICONE, UREA, MENTHA PIPERITA (PEPPERMINT) OIL, SALICYLIC ACID, PANTHENOL, ALLANTOIN, TOCOPHERYL ACETATE, SOLUBLE COLLAGEN, TRIETHANOLAMINE, ACRYLATES/C10-30 ALKYL ACRYLATE CROSSPOLYMER, POLYACRYLATE-13, POLYISOBUTENE, POLYSORBATE 20,DISODIUM EDTA, PROPYLPARABEN, PHENOXYETHANOL, METHYLPARABEN,PARFUM/FRAGRANCE
If you are anti-parabens then you'll want to stay away from this. Propylparaben is considered highly hazardous (depending on level and frequency of exposure) and you can read more on it here. Aside from this, no other harmful ingredients found.
Results
This foot mask is so fun to do with a partner so I advise you to buy at least 2 so you can peel together! The whole soaking process was super easy and straightforward. Kevin and I masked for an hour, and we played Overcooked to pass the time. I was expecting to see some change sooner than later, but my feet looked the same. I was starting to think this was just a gimmick, but out of nowhere the peeling began! It was day 5 and Kevin realized he was peeling too, but at a faster rate than mine. Oh man, the peeling just got crazier each day and we were ecstatic! We found out that we could peel off the skin in large sheets by soaking our feet in water for ten minutes, but that didn't work out for us. Molting it is!
The wonder and excitement wore off after a couple days and it actually got a little annoying because the peeling got really messy. Our floors were all covered in flakes and it was everywhere! I started wearing socks to try and contain the mess, which helped immensely so I would advise you to do the same if you like to be clean. By the end of the week I was tired of shedding so I used a pumice stone to lightly brush off the last bits of dead skin. It was pretty sensitive so I wouldn't advise you to do that unless you're at the very end of peeling. I think even the instructions tell you to just let your feet peel on its own.
Now that it's over, my feet are incredibly soft and I love it! Kevin's feet are so much better now too. He could use another session, but they've definitely improved! Remember to moisturize your feet after to maintain softness!
Kevin's photos: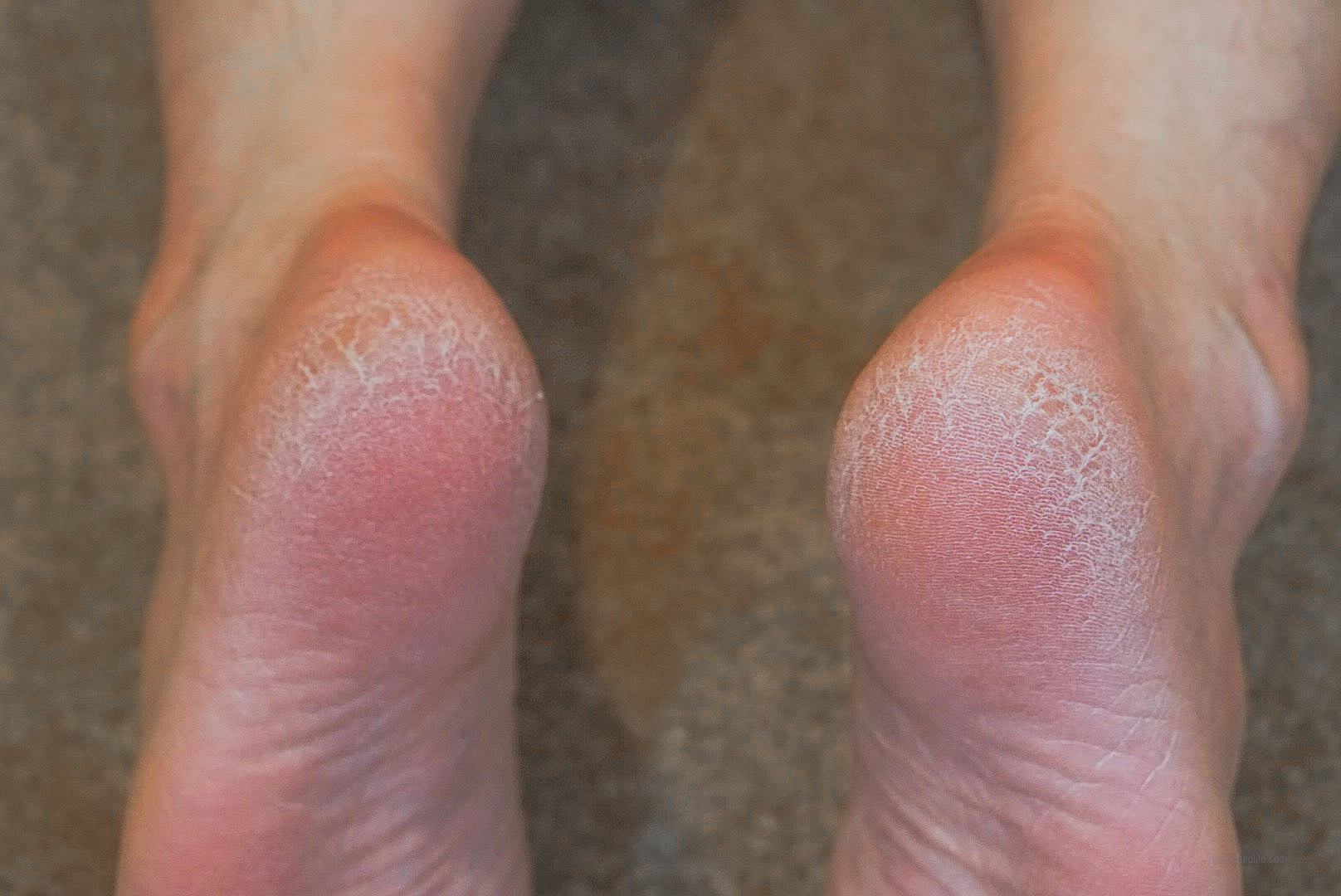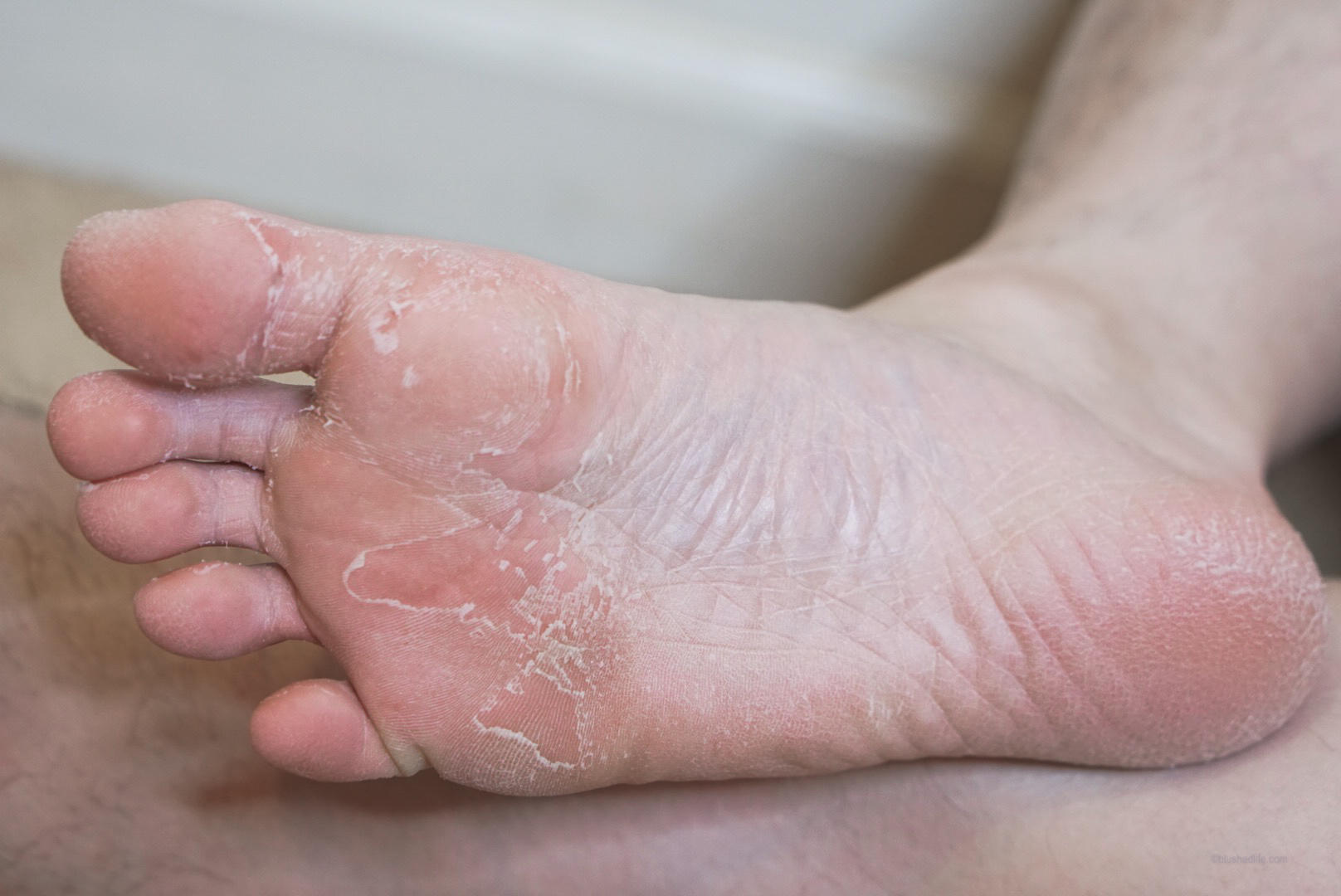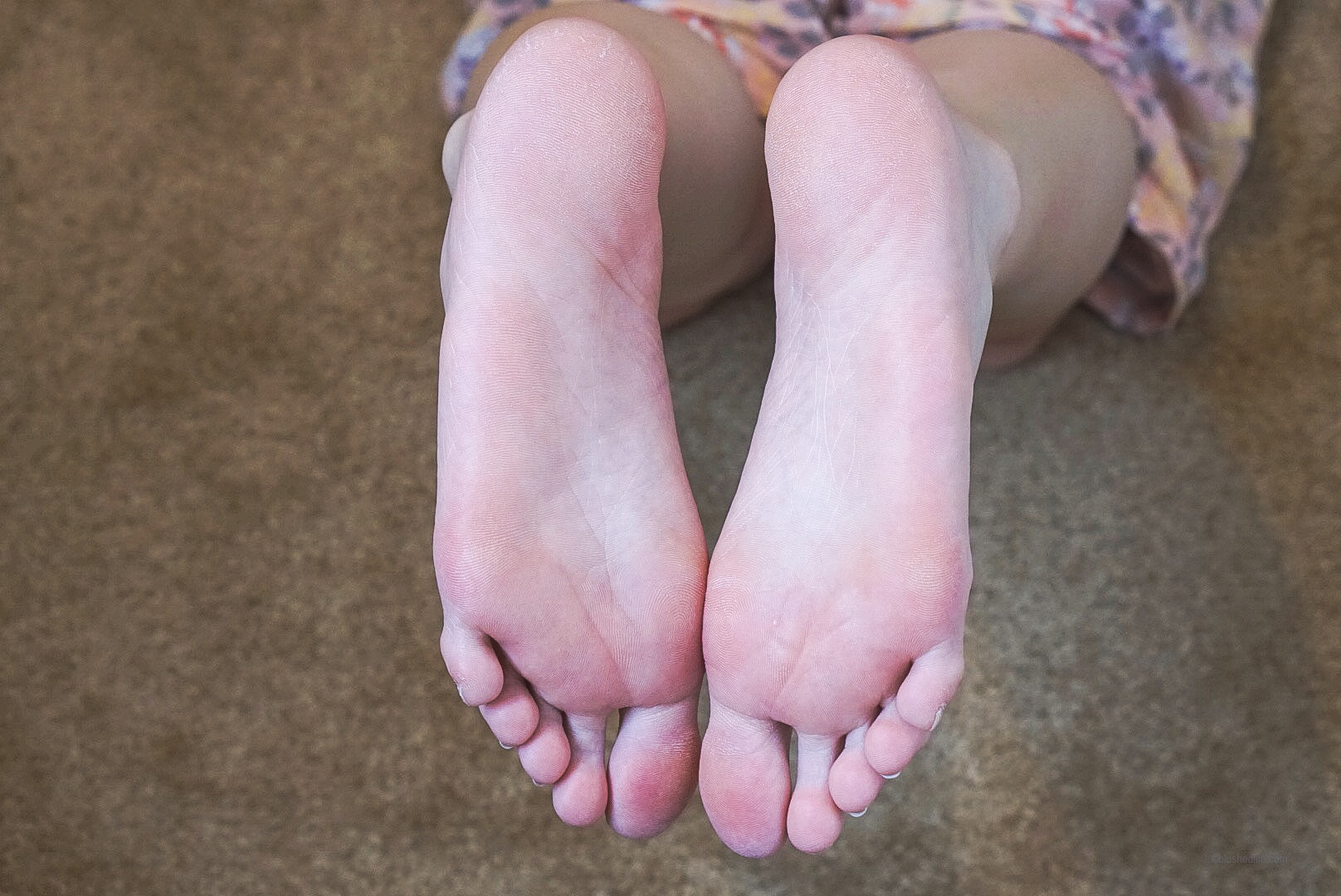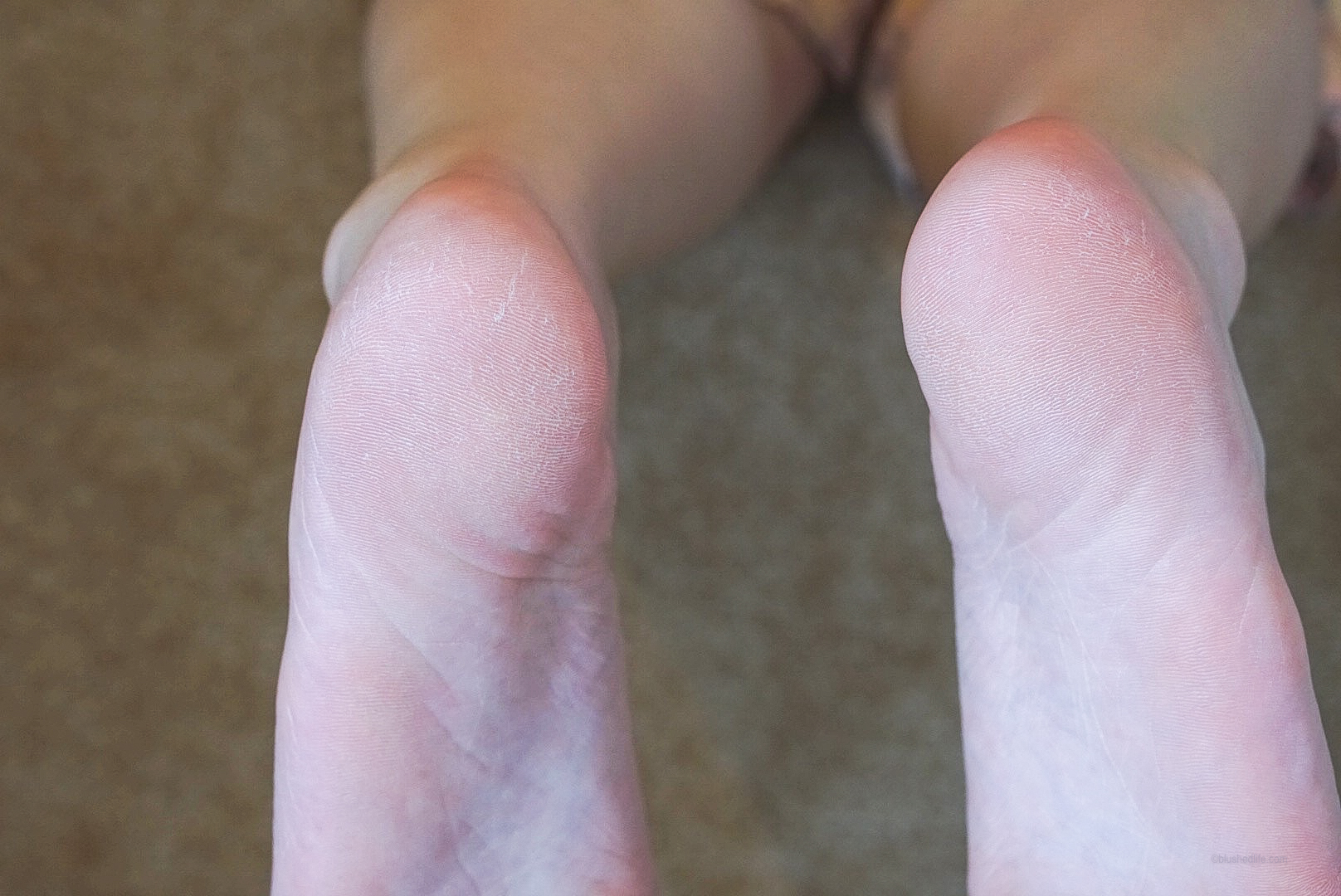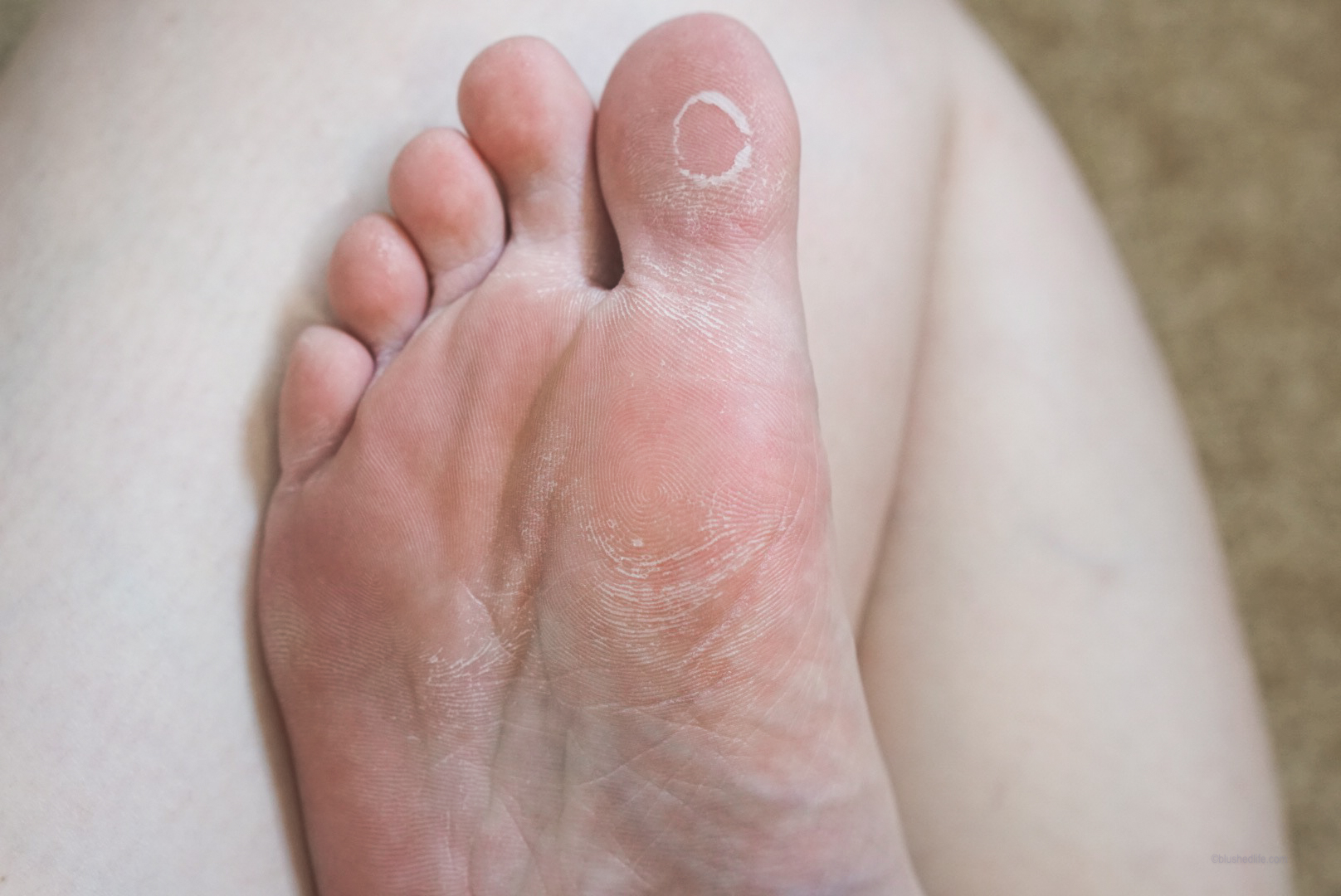 Conclusion
Anyone with dry, cracked feet needs to try this at least once! I highly, highly recommend!
★★★★★ Out of 5*
Pros: It works, gross + fun
Cons: Contains parabens
Available via:
*I still gave this a 5 star rating because this is a product that you use only on occasion so I felt the paraben factor was negligible.
** The Face Shop online only offers shipping to Canada.